On Tuesday Bishop Denis officially launched 'Kandle Family Fun Day'.
Bishop Denis Nulty extended a warm welcome to all families to the Kandle Family Fun Day, taking place in the grounds of Carlow College, St Patrick' Saturday, June 16 from 2:00pm-6pm.
Aside from the stage area there will be plenty to see and do with Carlow Sports Partnership and Carlow Youth Services providing lots of activities to keep young and not so young entertained. There will be demonstrations from the Defence Forces and Fire Services, an art tent, Davy's Pets, Trócaire display, African drumming, Vintage cars and lots more!
Commenting on the day, Bishop Denis Nulty said: 'This afternoon is about us offering a space for the many kinds of families across the diocese to spend some quality time together. It's about having fun and enjoying a free afternoon of music, sport, art and food – all elements that are so important to family life. I want to take this opportunity to say thank you to those parishes that have hired buses and are hosting families from the direct provision centres in our diocese. I want to acknowledge and say thank you to all those local organisations and bodies that have responded so positively to the idea of this family event. Their participation has helped us shape what we think is going to be a really wonderful afternoon for everybody who comes.'
This afternoon is part of the Kildare and Leighlin Diocese preparation for the World Meeting of Families taking place in Ireland from August 21-26. Alongside faith and parish based initiatives, the diocese has undertaken a number of community outreach events including the KandLe Family Fun Day. There will be a World Meeting of Families stand in the grounds of Carlow College for those who wish to find out more about this once in a life time event.
So for your diary entry:
Date – Saturday, June 16;
Place – Carlow College, St Patrick's;
Time – 2 to 6 pm;
Note to self- Not to be missed!
For more information please contact: Julie Kavanagh, Diocese of Kildare and Leighlin Faith Development Services, 059 9164084 / 0868206011
Full list of activities and stage performances announced below – it's going to be a great day!!!
Front of College
Stage Acts
HQ Tent
Photo Orienteering & Treasure Hunt
KandLe WMOF Art Project
Bowls
Traditional Field Day Games
Picnic Areas
WMOF 2018 Diocesan Petition Box: add a prayer for your family
Roaming juggler & Slapdash Theatre acts
World Meeting of Families 2018 Info Stand
Order of Malta Station
Sharing table: Give and take some food!
Back of College
Army Static Display – Vehicles, Army Kit, Rations & Emergency Response Demo
Carlow Vintage Cars
Carlow Youth Services: Music and Activities Tent
Carlow Cricket Club
Drumming Tent
Picnic Areas, Ice cream Van & Light       Refreshments Stall
Balance Bike Obstacle Course
Fire Services Display
Take-a-part Carlow: Scallion eaters project
GAA
Davy's Pets
Community Policing Stand
Tug-of-war
Stage Act Schedule
2:00       Presentation School Band
2:15       Garda Band
3:30       Official Opening
3:45       Dargan School of Dance
4:00       Reelóg
4:20       Some Social Dancing
4:40       St Joseph's School Choir
4:55       Aspiro
5:10       Ciara McNally
5:30       Carlow Youth Orchestra
All Welcome!  #kandleFamilyFunDay
Traffic Plan to Follow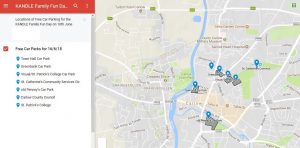 Please note that on-street parking and parking in private car parks remain governed by normal traffic regulations and rates.