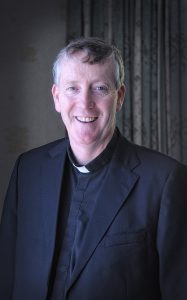 Denis Nulty was born in Slane, County Meath on 7 June 1963 to parents Den Nulty and Nan Balfe. He is the youngest of five children, with two brothers and two sisters. The family farm was the home where Denis and his siblings were reared.
He attended Primary School at Saint Patrick's National School, Slane and Secondary School at Saint Patrick's Classical School, Navan, completing the Leaving Certificate exam in 1981.
Denis entered the seminary at Saint Patrick's College, Maynooth in September 1981, completing a BA in 1984 and a BD in 1987.
He was ordained a Priest for the Diocese of Meath in Saint Patrick's Church, Slane on 12 June 1988 by Bishop Michael Smith in the presence of Bishop John McCormack.
In September 1988 Bishop Smith appointed Father Denis as Curate in the Cathedral Parish at Mullingar where he served for ten years until 1998. In August 1998 Bishop Smith appointed Father Denis as Parish Priest of Saint Mary's, Drogheda where he remained up until his Episcopal appointment to Kildare & Leighlin (August 2013)
In 2006 Father Denis followed a course of study in All Hallows College, Dublin, leading to an MA in Management for the Pastoral and Voluntary Services being awarded by DCU.
In September 2006 Bishop Smith appointed Father Denis as Vicar Forane for the Duleek Deanery which comprises seven parishes. Father Denis was Chairperson of the Council of Priests in the Diocese of Meath for past eight years prior to his appointment as Bishop of Kildare & Leighlin.
Bishop Denis Nulty was ordained Bishop of Kildare & Leighlin on 4th August 2013 in Carlow Cathedral.
Episcopal Crest and Motto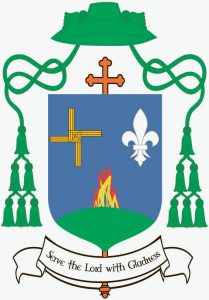 The Episcopal coat of arms chosen by Father Nulty is in the standard form
of cross, shield and galero.
The galero is traditionally the broad brimmed hat
and tassels which signify the user's place in the hierarchy.
At the base of the shield is a Vert (green) hill with a fire on top.
Father
Denis is a native of Slane in County Meath, a place well known for the
lighting of the Paschal Fire by Saint Patrick on the hill at Easter.
Above the hill is an Azure ground. Having been born and raised close to
the Boyne at Slane and having served as Parish Priest in Drogheda along the
mouth of the Boyne, it is hardly surprising that rivers would feature here on the shield.
Father Denis in recalling the origins of the faith in Ireland on Slane, wanted
also to include the other great symbol of the faith in Ireland with the Cross
of Saint Brigid of Kildare in Or (gold) on the left side. On the right side of the shield is a Silver Fleur-de-Lys. As an ancient Christian symbol it represents purity, and therefore in turn the Virgin Mary.
The colours in the shield signify the virtues and gifts that Father Denis hopes for himself in his Episcopal ministry and virtues he will endeavour to spread to all in his pastoral care.
Silver / White – Argent: Signifies truth, sincerity, peace, innocence and purity.
Gold – Or: Signifies wisdom, generosity, glory, constancy and faith.
Green – Vert: Signifies abundance, joy, hope and loyalty in love.
Blue – Azure: Signifies loyalty, chastity, truth, strength and faith.
His Episcopal motto – 'Serve the Lord with Gladness' is taken from Psalm 100.
Most Reverend Denis Nulty
Bishop's House, Carlow
Tel +353 (0)59 917 6725
Fax +353 (0)59 917 6850
Email: [email protected]