Proceeds from the writings of the late Fr John Cummins (52)  will go towards training lay people for ministry in Laois, Kildare, Offaly and Carlow.
Bishop Denis Nulty of Kildare & Leighlin decided to spend the money on training lay ministers after he was presented with a cheque for €7,000 by members of the Cummins family from Newbridge.
The money is the proceeds from the first book of sermons by their late brother who died in a tragic car accident in 2019. Fr John spent most of his time as a priest in Carlow town and was PP Abbeyleix & Ballyroan at the time of his death
The first volume "My Life in Your Hands" was published in 2022 after the family discovered his sermons on Fr John's computer.
Following the success of that first book, a second volume, by the same title, has recently been issued and is now on sale in parish centres and bookshops in Kildare & Leighlin.
Bishop Nulty said by putting the €7,000 towards the training of lay people it would sit well with the renewal programme in his diocese 'Launch out into the Deep'. In this programme, lay people will be trained to prepare and lead liturgies. They would stand in on a priests day off or on weekdays during a priests holidays.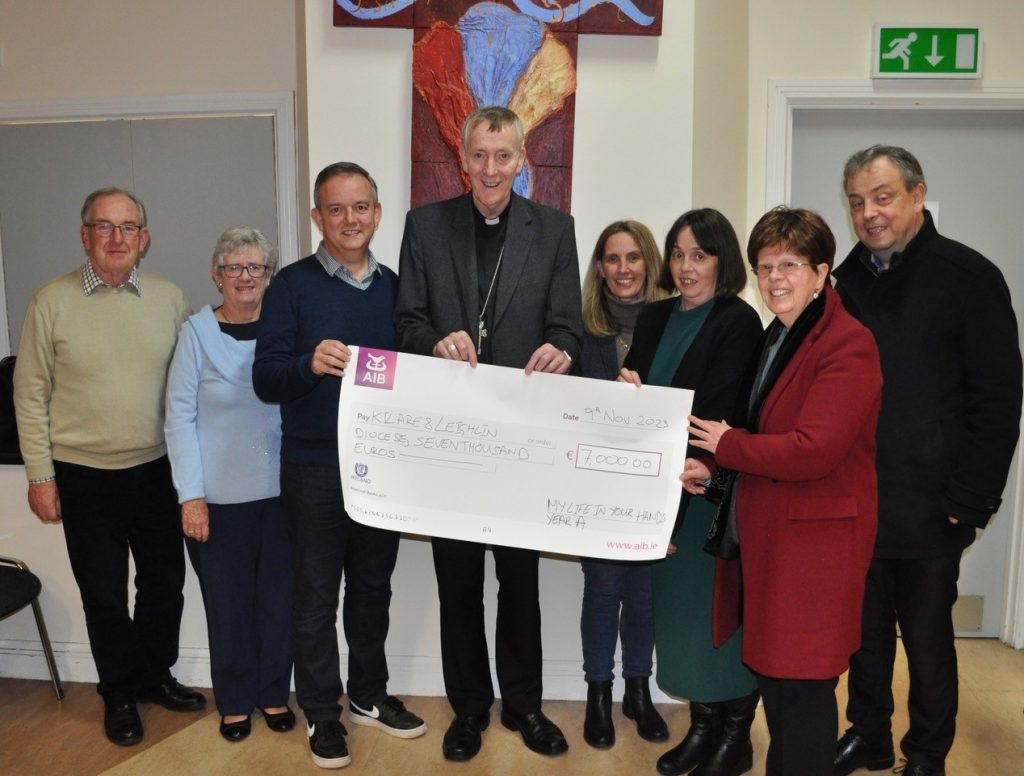 Cummins family members and the editorial team of "My Life in Your Hands" pictured in Carlow at the presentation – from left Joe O'Brien, Margaret Farrell, Gary Cummins, Bishop Nulty, Julie Kavanagh, Maria Cummins, Paddy Pender and Con Cummins.