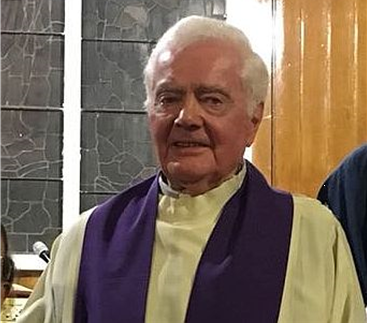 Fr Colum passed away on 26th November 2021, funeral arrangements later.
Biography
Date of Birth: 20th April 1928
Ordained: 21st June 1953
Appointments
St Marys, Navan: 1953
St Rosalies, New York: 1953-1955
Holy Name of Mary, New York: 1955-1957
CC Portarlington: 1957-1960
St Brigids, Tullamore: 1960-1961
Chaplains Residence, Curragh Camp: 1961-1976 (including 5 tours with the UN)
CC Killeigh: 1976-1981
PP Sallins: 1981-2004
Retired in 2004.
May his gentle soul rest in peace.
Homily of Bishop Nulty at the Requiem Mass of Fr Caolum Swan PE
Requiem Mass: Fr Colum Swan, Church of Our Lady & the Guardian Angels, Sallins, 29.11.21 @12noon
Introduction:
We gather in the Church of Our Lady and the Guardian Angels, here in Sallins, for the Funeral Mass of the late Fr. Colum Swan. He was our oldest Kildare & Leighlin priest. A mantle he held for the past three months since the death of Fr. Jack O'Leary last August. For Colum decorum and duty were always important. He was precise on detail and commanded your complete attention in conversation, always held in a gentle tone. So much of Colum was shaped by his days on the Curragh and serving on numerous peace keeping missions.
My prayers and thoughts are with you Fr. Colum's family this day. His sister Sr. Ethna, brothers Desmond and Kevin; Colum's sisters-in-law Anna, Mary and Verity, nieces and nephews, his brother priests, his former colleagues on the Curragh and his lifelong friends in Cork, Brenda and Mary. Joining us by webcam I welcome Kevin, Dany and family in Belgium; Yvette and the Bourquin family in Spain, his many priests friends and other relatives and friends watching in this day. I welcome all of you, those present in this Sallins Church which was his spiritual home for 23 years and the many watching on the webcam. A special appreciation and thanks to the staff of Bon Secours Care Village, Mount Desert, Cork for their care for Colum over the past eight months.
This COVID pandemic has determined a very different celebration than we all would have wished for. But Sallins was always the place that Fr. Colum would have wanted to return to and to be later buried as was his wish in the grounds of Our Lady and St. David's, Naas. He served here from 1981-2004. Ordained a priest of Meath Diocese he served for a few months in Navan before travelling to the United States, as many priests of his generation did, serving in St. Rosalie's and later the Holy Name of Mary, both in New York. He returned to take up an appointment in Portarlington (1957-1960) and went back briefly to Meath serving in Tullamore, before his appointment as Chaplain to the Irish Defence Forces on the Curragh from 1961-1976. After the Curragh he spent five years in Killeigh before coming here to Sallins.
In death Colum is reunited with his parents Michael and Sarah, his siblings Leo, Brendan and Nuala who just died last year. May they all rest in the light of Christ this Advent day. And so as we gather in prayer with our memories and our stories, let us pause immersing them into the story of the life, death and resurrection of Christ as we call to mind our sins …
Homily:
"Blessed are those who mourn
They shall be comforted"[1]
Colum was born in Lobinstown. His parents were both teachers in Heronstown. Everytime we met he mentioned these townlands that were so familiar to me. In visiting my cousins I often passed the 'Teachers Residence' as it was called where Colum and his family spent their early years. The area is still today locally referred to as 'Swans Cross'.
He always remembered with great fondness his late parents. The death of his sister Nuala in the early stages of the pandemic last year went hard on Colum. And the passing of Fr. Pat Ramsbottom, whom he befriended in more recent times. While we are in Advent, we are still in this month of All Souls, when we are continuously reminded "it is therefore a holy and wholesome thought to pray for the dead"[2]. Today Colum is added to that list and we are the ones who must now remember him.
"Blessed are the gentle:
they shall have the earth for their heritage"[3]
These four weeks of Advent draw us into the mystery of Christ as well as putting before us the coming of Christ at the end of time. Advent reminds us of a Christ who never leaves us. 'Patience' is the virtue espoused and encouraged in this short season. None of us are possessed with great patience. We struggle to live in the moment, often with a deep impatience for what might be if things were different. When will this pandemic with its latest Omicron variant be history? When will we return to our normal lives as if normality didn't bring its own challenges? When will we see our loved ones when they depart this life leaving "footprints on the sands of time"?
Colum in recent times would spend his Christmases in Cork. I would often visit him a few days before Christmas in Cherrygrove and finding no answer to the door, would phone him on his mobile. And at the best of times the conversation on the mobile would present challenges because Colum spoke gently, nearly reverently to the point at times of being inaudible. Sometimes he travelled by car, more often by train. And it was to Cork he went for Christmas 2019, not knowing that in the early months of 2020 the virulent virus that first surfaced in Wuhan would hit our shores, claiming its first victim in the hospital here at Naas. Colum chose to stay in Cork and it was a wise choice.
"Blessed are the peacemakers:
they shall be called sons and daughters of God"[4]
There was a lovely black and white photograph of Archbishop Makarios of Cyprus and Colum, if memory serves me right it hung in his sitting room in 32 Cherrygrove. It was taken on one of Colum's peacekeeping tours of duty on that island. Colum was intensely proud of that photograph. The fact that Makarios was an irritant to the British presence on the island certainly contributed to his appreciation of that moment captured through a camera lens.
And before that tour of duty Colum served with the No. 2 Infantry Group in the Congo from October 1963 to May 1964. That was a tough mission located at Kolwezi in Katanga Province and it was the last Irish Defence Forces' unit to serve with the United Nations Operation in the Congo. He had four tours of duty in Cyprus. He was chaplain to the 42nd Infantry Battalion from April to September 1965 who were located in Morphou and Paphos districts; the 9th Infantry Group from September 1967 to March 1968 and the 13th Infantry Group from September 1969 to March 1970, both located in the north west of the island and the 22nd Infantry Group from April to October 1972 centred in Larnaca district.
As a peacemaker Colum was a very discrete person who had a strong presence, reassuring all ranks, be it that young recruit on his first tour of duty in the mid 1960's or the experienced soldier. I can imagine Colum writing their letters for them, making representation for them, being always that listening attentive ear. It's this privacy and discretion that made Colum the chaplain a good chaplain. Much of chaplaincy work goes unknown and it continued long after he had moved on from the Curragh plains. I am reliably told his former colleagues affectionately referred to him as 'Swanie'. Colum was very faithful to the 1916 Mass in Arbour Hill. It was important for him that those who died would never be forgotten.
In the Curragh Colum is remembered for his lectures on the subject of communism in the 'Command and Staff School'. He was an avid reader, articulate in his delivery. When he spoke in his gentle, reverent, precise manner you listened. In the nicest of ways he commanded respect. Even in his posture there was an uprightness that came from his days of military service.
But it also came from his faith. His faith in the One who taught the Beatitudes in Matthews gospel. While Jesus taught them, Colum and all of us strived to live them. Sometimes we succeed, occasionally we fail. I love that word "blessed", used several times in the gospel. We as a diocese, you as his family, his many friends joining us today are blessed for Colum's gracious ministry among us, a ministry that spanned 68 years. May his soul and the souls of all the faithful departed rest in peace. Amen.
---
[1] Mt.5:4
[2] Macc.12:46
[3] Mt.5:5
[4] Mt.5:9