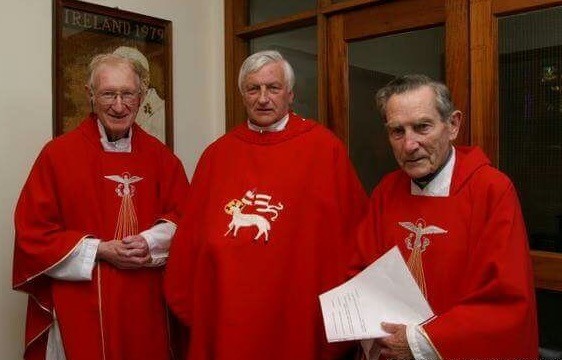 Biography
Date of Birth: 28th December 1938
Ordained: 17th March 1962, Irish College, Rome
Appointments
CC Kilcock: 1962 – 1968
CC Borris: 1968 – 1973
Chaplain, Curragh Camp: 1973 – 1989 (Head Chaplain, 1988 – 1989)
PP Bennekerry: 1989 – 2002
PP Cooleragh: 2002 – 2014
Retired: 2014
Funeral Arrangements:
Body Donated to Medical Research, University College, Dublin.
Requiem Mass will be celebrated in the Cathedral of the Assumption, Carlow, at 1pm, Saturday 18th March 2023. Mass can be viewed via webcam at https://carlowcathedral.ie/webcam/
May his gentle soul rest in peace.
Homily of Bishop Denis at the Requiem Mass of Fr Paddy Daly PR, Cathedral of the Assumption, Carlow @ 1pm, 18.03.23
Introduction:
I welcome all of you very warmly as we gather this Saturday to pay a faith-filled farewell to Fr. Paddy Daly. Yesterday would have been Paddy's 61st anniversary of Ordination in Rome. He didn't live to see that anniversary, slipping into the arms of a loving and merciful God, two days earlier on Wednesday last.
Today our thoughts and prayers are with Paddy's sister-in-law Anne, nieces, nephews, cousins Elma and Anna, his extended family, his neighbours over at Braganza, his friends and of course all of us in the diocese who will miss Paddy very much.
I include those whose lives he particularly impacted in the parishes and appointments he held over his 52 years of active ministry: Kilcock, Borris, the Curragh Camp, serving on a number of peacekeeping missions overseas, and more locally Bennekerry where he was Parish Priest for thirteen years and Staplestown & Cooleragh where he retired from in 2014.
It's so life affirming to take a cursory glance through the condolence section on rip.ie, all those appointments are mentioned. A couple who were married in Jerusalem while they were serving in the Lebanon; an altar server from his Bennekerry days who instilled in her a love of Church she has never lost; a staff member who recalled Paddy dropping in the chocolates to the children in Staplestown on the Feast of the Epiphany and several memories of the young curate on the bicycle around the roads of Borris.
But today we gather for his Requiem, conscious that as was his wish, his body is already donated to medical research in UCD. And because of that this is so very different to most requiems as we gather without his remains but with memories that will linger long.
And so in the peace and comfort of the Lord who tells us in John's gospel not to let our hearts be troubled, to trust in God[1], we do that now as we commend Fr. Paddy to the mercy of the Lord and in doing so call to mind our own sins …
Homily:
Fr. Paddy was one who always spoke candidly, he said it as it was and this quality endeared him to all of us. He would remind me, a Requiem is not a time to talk about the deceased, it doesn't matter who they were or what they did; he felt colleagues at times blurred the lines between the obsequies and the canonisation rite. So I'm clearly going to do my best to heed his advice on this day, the day we as family, as diocese, as friends pay a faith-filled farewell to Paddy.
The prophet Isaiah, in our first reading, reminds us faced with death, God is our only source of hope and salvation. He alone will destroy death and wipe away all tears. There is a certain sense that our Lenten journey is a journey through a wilderness and desert that often seems desolate and arid, but all the time God walks with us. Often carrying us, when we no longer can find the limbs to walk. As he walks what seems barren becomes a splendid banquet. We know that our Lenten journey leads to the pain of Calvary but equally to the joy of Easter. This is what unites every Requiem, the hope-filled guarantee that we will see our loved one once again.
Psalm 23 centres on the shepherd. We know the psalm very well. It's tune, it's air is familiar to the ear. The psalm reminds us He is with us "in our valley of darkness"[2]. As we suffer, He holds us by the hand and like a mother He soothes our brow. No matter how often we hear it, the measured cadences of the melody of this psalm offers great comfort.
And then we have St. Paul speaking to the Romans. In and through Christ we have become children of God, and therefore heirs with him to eternal glory. The Spirit was very important to Fr. Paddy. He delighted recently when I told him most of my confirmations these days were the celebration of the ritual of Confirmation outside of the celebration of Mass. He smiled broadly, saying "sure wasn't I campaigning for that for years!" And true to form I came across a letter in 2005 requesting permission for same. St. Paul reminds us "what we suffer in this life can never be compared to the glory, as yet unrevealed, which is waiting for us"[3]. A powerful reminder of the glory that those we love now enjoy with the Lord. A Requiem must speak of this glory, because nothing of the person's life will be lost in the knowledge that they are now with the Lord.
We will all have a familiarity with St. John, who speaks so comforting of trust. It's the one thing the bereaved need to hear that we can trust in the Lord. Before the mystery of death we are numb with pain, confused in feeling and at times without understanding. Fr. Paddy had a profound trust in the Lord. And maybe he showed it most in his move to Craddockstown as he coped with sickness and its effect on his life. He left his life in the hands of God, very conscious that God was walking with him every step of the way.
He loved 'Braganza', I often called in to him on my way back from walking the Barrow track. In an early piece of correspondence just as he was settling into his new surrounds he wrote: "I have landed in Braganza. In times past it would have been a big career move …". His interests were in the war times and the great battles of the past. He was an avid reader who kept up to speed on current news through his iPad. He always took an interesting twist on world events, you could never predict his response. Paddy always thought of the wider picture.
Many refer to his electric bicycle, Paddy was a trailblazer in trends. A word of thanks to the priests and friends who know who they are, who were kind beyond measure to Paddy. In Braganza, in the District Hospital, in Craddockstown, nothing was too much for them. Many will remember Paddy from the parishes he served in, for his thought provoking chats. When Paddy spoke to you, you had his full attention. And that's what we will miss in the time ahead, but Fr. Paddy would remind us we will take up those conversations in eternity. In eternity we will see the One who is the way, the truth and the life.
Paddy's final act of generosity in donating his body to medical research at UCD is worthy of mention, allowing the next generation of doctors, physiotherapists and radiographers to be trained, offering them literally 'hands on experience'. This hugely generous act is but a statement of the man Fr. Paddy was to all of us. Paddy, may the songs of the angels welcome you and guide you on your way. Amen.
---
[1] Jn.14:1
[2] Ps.23:4
[3] Rm.8:18