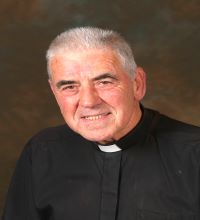 Biography
Date of Birth: 21st June 1937
Ordained a priest for Middlesbrough in the UK on 12th June 1966, incardinated to Kildare and Leighlin on 16th September 1980.
Appointments
CC Bagenalstown: 1977-1984
CC Borris: 1984-1992
CC Hacketstown: 1992-1996
PP Doonane: 1996-2022
May his gentle soul rest in peace.
Rosary on Tuesday at 7pm in The Church of the Blessed Virgin Mary, Mayo, Co Laois. Arrival in St Abban's Church, Doonane, (Eircode R93 AT86) on Wednesday at 4pm with Prayers that evening at 7pm. Funeral Mass on Thursday in St Abban's Church, Doonane, at 11am followed by burial in the adjoining cemetery.
Requiem Mass – Fr. Denis Murphy PP: 22.12.22
11.00am St. Abban's Church, Doonane
Introduction:
We gather in St. Abban's Church this Thursday morning, a couple of days before Christmas, to lay a much loved Parish Priest to rest among a people he faithfully served for 26 years. Fr. Denis Murphy was loved by all generations in these parts.
My prayers and thoughts are with Fr. Denis' nieces Margaret and Eleanor and his nephew Pat. I'm conscious of his great collaborator and friend Isabella Mulhall who worked alongside him for 37 years. I also include his grand-nephews and grand-nieces, relatives, neighbours, parishioners here in Doonane/Mayo, his brothers priests and all of us who knew and loved Denis. We cannot but be struck by the amount of young people who have a deep affection for Denis, then again in 26 years he had sacramentalised most of you.
Fr. Denis was originally ordained for Middlesborough Diocese in 1966, serving in Chile with the Columban Fathers for five years. He held an appointment in St. Wilfrids, York before coming to Kildare & Leighlin initially on a temporary basis in Bagenalstown, before incardination in 1980 saw him with appointments in Bagenalstown (Muinebheag), Borris, Hacketstown and then here to Doonane in February 1996.
For Fr. Denis his journey of illness was brief, in many ways too brief, but then brevity was second nature to him! I recall him speaking to me about his diagnosis in early October, no treatment had started then, only preliminary tests. I can only imagine him lifting his eyes up to heaven with his broad smile, in the knowledge that, brevity was what he would have wished for.
As we gather this morning to give him back to the Lord of mercy and compassion, we begin first by calling to mind our own sins …
Homily:
The two in Luke's gospel are on a journey. As they walked along, Jesus walked with them. It is the shorter version of Luke's account of the 'Supper at Emmaus'. They were slow to recognise Jesus, but it was in the Eucharist, the breaking of the bread that they recognised him, but he had vanished then, he was gone.
In Doonane and Mayo, around these very altars you too came to recognise Jesus. Fr. Denis Murphy, your priest for over a quarter of a century, allowed you to meet Jesus, to hear His word, to receive His body, to gather as community. He was known not to delay, he'd often say to me "why use three words, if one will do?"
On the day he died I prayed with him in the District Hospital and I was asked could I go slower, so that those around could keep up with the pace! At the end of the prayers, I suggested that they should be familiar with prayers being prayed at a certain tempo, but I was reminded "Fr. Denis left nothing out".
He had one request that there would be nothing said about him at his funeral, he didn't want any eulogising. If I wanted to say something I have enough material for a series of homilies from reading the condolence section on rip.ie. They speak of his smile that was adored by all, young and old. They mention how he loved to keep meetings short!. They describe someone who was dedicated, thoughtful and unpretentious, several using the phrase "a true gentleman". They refer to his Mass "special and short which he was known and loved for".
It's very interesting that Doonane has very few priests in modern time who served here, dying here. The last burial of a priest here was in 1876, 146 years ago, it was a Fr. James Kavanagh. Since then the average length of appointments for the fourteen priests who served here was eight and a half years before Denis' appointment in 1996, where he would minister among you for 26 years.
And he kept going practically until the very end, until he simply wasn't able to. I noticed his breathing becoming very laboured, even the smallest thing was an ordeal for him. And its sad when we think of the frame of a man he was, who spoke passionately about Kilkenny hurling and loved to rib about Laois football, but then I'm not given permission to mention any of that! A son of Paulstown Parish, Denis never forgot the black and amber.
If I were allowed to speak of his style of ministry, the conversations outside the church maybe were longer at times than those within the church walls. In Borris he would speak about the mart and the price farmers were getting for their cattle or sheep or the early days of Mount Leinster Rangers when he served as Chair when the club was formed. In Hacketsown it might have been about the battles fought there around the 1798 rebellion and of course he would have a go at Wicklow who might be playing in the Battle of Aughrim the following Sunday. In Bagenalstown about the matches that Sunday or who might be marrying or close to deaths door. The chats are well remembered. But I'm forbidden to mention all that, so let's just return to our scripture.
The prophet Isaiah speaks of consolation, the Lord wiping the tears from every cheek. Consolation in a season of Celebration. Requiems around Christmas are always challenging. But the assurance that Christ was born for us and that lifegiving gift gives us the strength to cope with our losses. St. Paul speaks of where our homeland is, we don't need an Eircode, but we know its in heaven. And then St. Luke offers us the conversation that had the two captured on the road to Emmaus, for us it could be the road to Crettyard, to Mayo or Doonane but the moments this man, Fr. Denis Murphy, through his ministry introduced us to Christ and for that today, we have come to say thanks.
Denis was proud of this parish being the birthplace of Bishop Francis Haly, he mentioned it to me at my first Confirmation dinner here. That was the year when in my introduction at the Mass, I talked about that this being my first Confirmation in County Carlow, be bellowed from the sacristy as he was charging up the thurible, "Laois"! He loved hosting those Confirmation dinners; he was a great host, and we as a diocese will fondly miss him, but know he has fought the good fight until the very end. If he had let me I might have liked to have finished with a well worded tribute from the many on rip.ie: "you've left nothing behind but goodness, fond memories and smiles on our faces, a feeling of being supported, of being heard and many laughs along the way".
Fr. Denis, may you rest in coladh samh i measc na Naoimh.