On Wednesday 12th July Bishop Denis celebrated a Mass of thanksgiving for Sr's Brigid and Carmel who have been in Baltinglass Parish for 27 and 26 years respectively.
In his introduction Bishop Dennis commented "We gather in huge numbers this Wednesday evening to pay tribute to the enormous contribution Sr. Brigid & Sr. Carmel have made to the life of Baltinglass Parish over the past 27 years. For them it was always about parish. And their leaving of Baltinglass will be difficult because of this very fact, you the people of Balto took them to your hearts!
I think it's so wonderful we gather on a July evening like this; because often we leave it too late in the day to show appreciation, to smell the fresh flowers, to hear words of affirmation and encouragement. St. Paul writes to the people of Philippi about prayer; St. John in the gospel speaks of the vine and the branches.
We are here to say thanks for Brigid and Carmel's presence here in the parish and wish them every blessing in their new abode".
Homily:
Let's get things right first! Sr. Brigid arrived 27 years ago; Sr. Carmel the year after – when you do the maths that is 53 years of service. 53 years of being present. 53 years of being part of the fibre and essence of this parish. 53 years of witnessing to Venerable Catherine McAuley in these parts. I had the great honour in the past two weeks of ordaining two young men to the priesthood – Fr. David Vard in Newbridge and Fr. Joseph Yang Shuai in Portlaoise. Their putting themselves forward for Ordination gives great hope for our church and the faith life of our worshipping communities.
David will work in Portlaoise; Joseph on the Argentinian side of the border between Argentina and Paraguay. They will work 11,504 km's apart in a time zone difference of four hours. When David is having his lunch; Joseph should be thinking about breakfast! Today it was 17℃ in Argentina; it was 21℃ in Portlaoise! Joseph better bring a woolly jumper with him! It will be the same universal church they are ministering in.
When Sr. Brigid came to Baltinglass – the President was Patrick Hillery. The Taoiseach was Charles Haughey. Ireland competed in its first World Cup Final. We reached the Quarter Final stage by beating Romania in penalties after a goalless draw!! The Romanians I'm reliably told even their priests claim to be handy at soccer! The Irish pound coin came into circulation in 1990. Nelson Mandela addressed both Houses of the Oireachtas. Brian Keenan was released from captivity after 1,574 days in Beirut. Maeve Binchy's 'Circle of Friends' was published; John McGahern's novel 'Amongst Women' was published. Cork took football and hurling honours. Cardinal Tómas O'Fiaich died very suddenly out in Lourdes, where we are going to next week. Italy won the Eurovision with a song 'Insieme: 1992'.
When Sr. Carmel came to Baltinglass a year later the President was Mary Robinson and the Taoiseach was still Charles Haughey. The re-fuel controversy around US military planes refuelling at Shannon erupted. The Birmingham Six were freed. Roddy's Doyle's novel 'The Van' and 'The Barrytown Trilogy' were published. The cyclist Sean Kelly won the Giro di Lombardia. Down bet Meath in the All-Ireland final by two points! Tipperary took hurling honours. Sweden won the Eurovision Song Contest in 1991!
Tonight's first reading focused on prayer. Both Sister's Brigid and Carmel have been a great example to the parish and Baltinglass community in their prayer life and witness. They have been present here for 27 years, 53 if you add both sets of years. As parishes go, it's a rather short Mercy presence. Other towns around Ireland including Carlow have had a much longer Mercy tradition. Of course, Baltinglass was seen as an outstation or outpost of Rathangan. The fact that Rathangan is to close is of itself a key reason why without its mother-house, or house-of-origin Baltinglass must go also. Rathangan was the vine; Baltinglass was the branch.
When Catherine McAuley and her companions professed her vows back in 1831, little were they to realise how effective the Mercy presence would be as it merged with the Diocesan structure of the day around the country and the world. Dublin for McAuley and her friends was an exciting place, it was just two years after Catholic emancipation. Emancipation had given a confidence into the city and into its emerging Catholic elite. It was at this time that splendid churches were built with hard earned money. People had a twin loyalty to God and Church. There was the sense that one parish needed to outdo its neighbour. St. Joseph's here was built in 1855; the Cathedral in Carlow in 1833.
Where you have an emerging elite, you have an even greater slide into poverty. While Catherine McAuley came from a wealthy class she was very aware of the poor who were being trampled on by the newly emerging rich class. Through their work in health, education and social work she established a structure to support the poor and to deal with issues of exclusion. Of all religious orders, the Mercy and the Diocesan structure were most closely inter-twinned; here in Baltinglass and more generally in Kildare & Leighlin Diocese it was no different.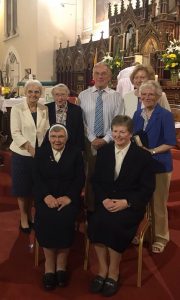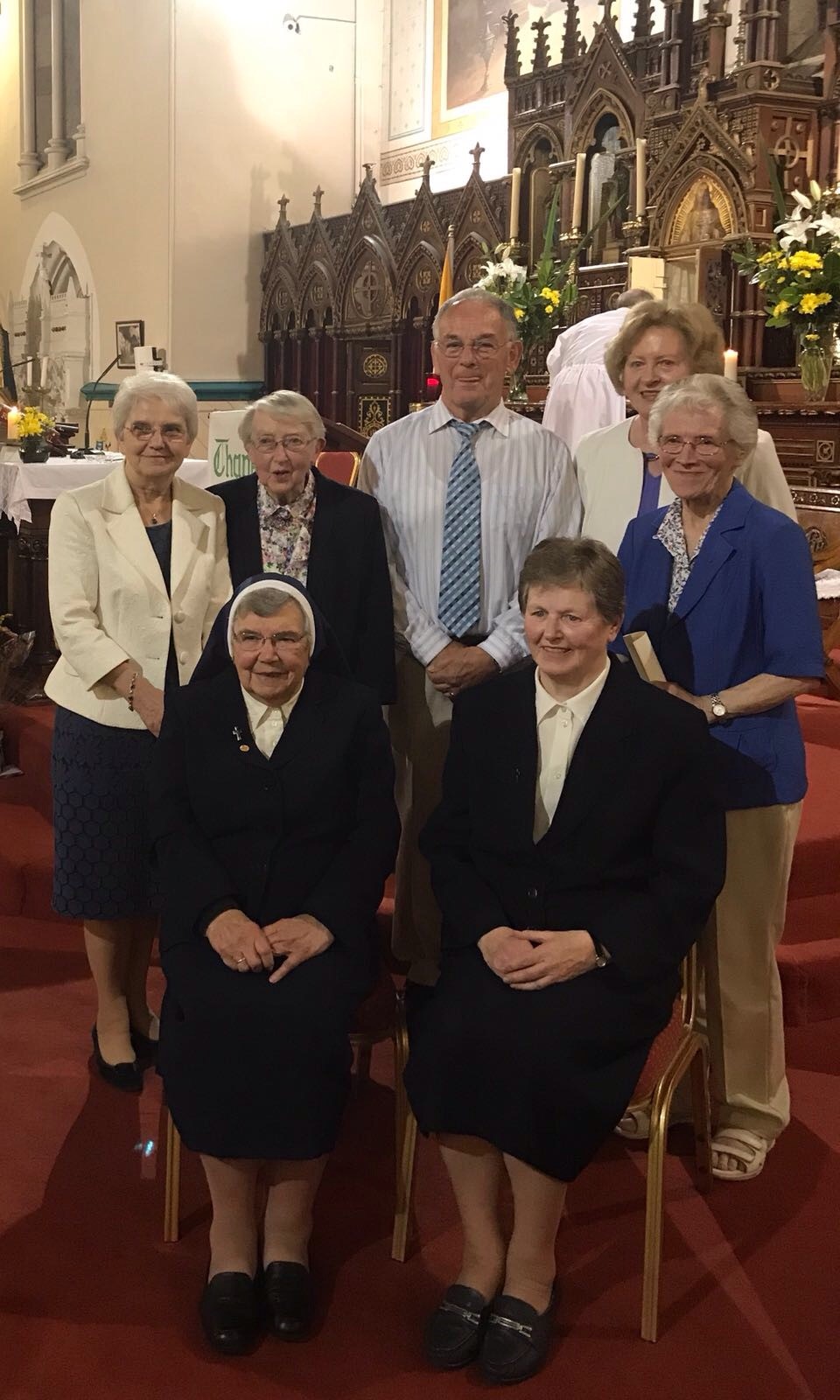 The Mercy Cross is something which both Brigid and Carmel faithfully wear. It is a silver and black cross without the figure of Jesus. It was designed by Catherine McAuley who saw it as being founded on Calvary and the Sisters were the invisible ones on that cross. Perhaps the call is no longer in healthcare or education provision, but the witness remains as essential today as it was in the past.
"Parochialism is wary of "others"
A parish welcomes them.
Parochialism separates us from "them"
A parish unites us with them.
Parochialism closes us in,
A parish opens us out.
Parochialism sows suspicions;
A parish promotes respect.
Parochialism segregates and excludes;
A parish incorporates and includes.
Parochialism constricts and confines;
A parish expands and overflows. 
Parochialism would have us dig in;
A parish bids us to reach out …"[1]
Sr. Brigid and Sr. Carmel, through their music ministry, through their prayerful presence have made Baltinglass the parish it is today, may they be blessed in their road ahead. I conclude with the traditional Celtic blessing:
May the road rise to meet you,
May the wind be always at your back.
May the sun shine warm upon your face,
The rains fall soft upon your fields.
And until we meet again,
May God hold you in the palm of his hand.
May God be with you and bless you;
May you see your children's children.
May you be poor in misfortune,
Rich in blessings,
May you know nothing but happiness
From this day forward.
May the road rise to meet you
May the wind be always at your back
May the warm rays of sun fall upon your home
And may the hand of a friend always be near.
May green be the grass you walk on,
May blue be the skies above you,
May pure be the joys that surround you,
May true be the hearts that love you.
[1] Reflection by Walter J. Niebrzydowski: 'Parish vs. Parochialism'
ENDS