A Family Moment of Prayer at Exam Time 
What is this initiative?
A prayer card/leaflet for use in the home by families in the parish who have a child doing exams.
A simple Prayer Ritual for Someone who is taking an Examination
Gather as a family
Quieten down for the few moments this will take, and light a candle to remind everyone that the Lord is present.
Make the Sign of the Cross together.
Prayer: led by a family member
We thank the Lord for all the happy times we spend in School, for friendship, support and learning. We ask a special blessing at this time for all those doing Exams, and especially for ……
Scripture Passage: Read by a family member
A Reading from the Prophet Jeremiah
"For I know what plans I have in mind for you, says the Lord, plans for peace and not disaster, to give you a future and a hope. When you call to me, and come and plead to me, I will listen to you. When you seek me you will find me, when you seek me with your whole heart, I will let you find me. It is Yahweh who speaks.
The Word of the Lord
All: Thanks be to God
Prayer: led by a member of the family
Holy Spirit, send your Gifts to ……………….. as he/she prepares for and takes these Exams.
Help him/her to remember that they do not define him/her as a person, but are merely steps on the road to a bright future.
Keep him/her calm and enable him/her to give of his/her very best and to remember all that he/she has studied.
St Joseph of Cupertino, who prayed at your own examination on your way to priesthood, pray now for …………………….
Help …………… and all students to think clearly and express themselves well,
and to know that no matter what happens,
they are valued, loved and cherished in their families and their school communities.
Mary, Mother of all of us, pray for and with us for ………………
All: Hail Mary, full of grace.
The Lord is with thee.
Blessed art thou amongst women,
and blessed is the fruit of thy womb, Jesus.
Holy Mary, Mother of God,
pray for us sinners,
now and at the hour of our death.
Amen.
Make the Sign of the Cross to conclude your time in prayer together.
A Daily prayer for the family member undertaking exams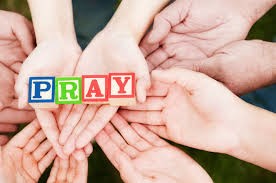 LORD, AS I PREPARE TO SIT MY EXAMS
send your Holy Spirit to guide me and be with me.
Thank you for the many talents and gifts you have
given me and for the opportunity of education.
KEEP ME CALM.
Help me to do the best I can on the day of my exam.
Help me to remember all that I have studied,
to express it clearly and to answer the questions
as best that I can.
Give me peace, understanding and wisdom
and
BE WITH ME TODAY AND ALWAYS.
AMEN