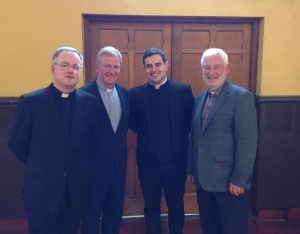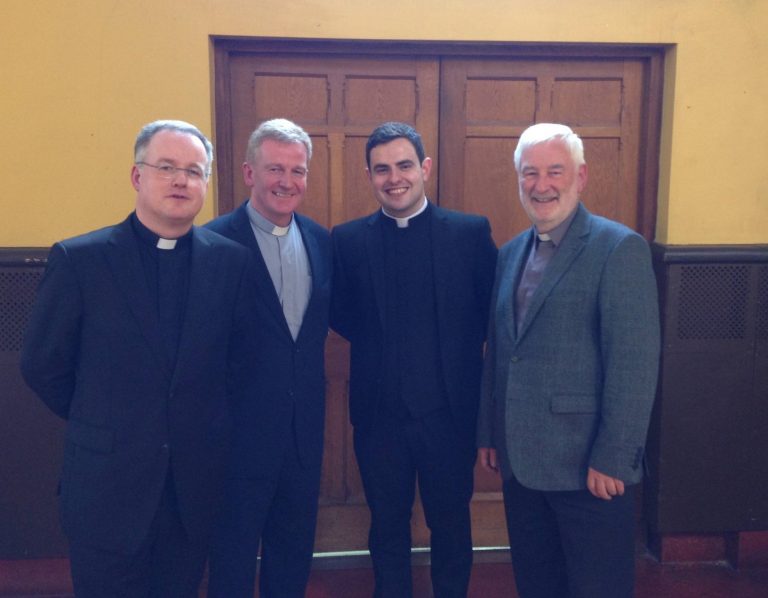 Pictured above is Fr Ruairi O'Domhnaill, Vocations Director, Very Rev Paul Dempsey PP VF Newbridge, Rev David Vard and Very Rev Joe McDermott PE CC.
Bishop Denis warmly welcomes the Ordination of David Vard to the Diaconate yesterday. David commenced his studies at Maynooth in 2010. His Diaconate Ordination is a great blessing for the diocese, for his home parish of Newbridge, for his family and for David personally. As a diocese we look forward to David being ordained to the priesthood in 2017.
A reminder that the Samuel Circle meets once a month on a Sunday afternoon to explore and discern a vocation to the priesthood. If you would like to be part of this group or simply even drop in to check it out, further details from Fr. Ruairí Ó Domhnaill, our Vocations Director on 045.897470 or go online [email protected]
Bishop William Crean, Bishop of Cloyne, ordained nine seminarians as deacons in the College Chapel of the national seminary in Saint Patrick's College, Maynooth on Sunday May 29th.
Bishop Crean was the chief celebrant and preached the homily, and all of the priests of the College community concelebrated this 11.30am Ordination Mass. Family, friends and other priests also participated in this special celebration. The following are the ordinands from today's diaconate ceremony (respective diocese in brackets):
Michael Byrne (Dublin)
William Caulfield (Ferns)
Aidan Gallagher (Tuam)
Sean Jones (Kerry)
Declan Lohan (Galway)
John Magner (Cloyne)
Barry Matthews (Armagh)
Evan O'Brien (Cork & Ross)
David Vard (Kildare & Leighlin)
Following the Mass, Monsignor Hugh Connolly, the President of Saint Patrick's College, Maynooth, said, "It is with great joy that we celebrate the ordination of nine men to the diaconate today – and especially so on the Feast of Corpus Christi. May these nine men now go forth to build up the 'Body of Christ' which is his Church. On behalf of all of us here in the formation and learning community which is Saint Patrick's College Maynooth, I congratulate our nine ordinands and wish them every happiness and blessing in their forthcoming diaconal ministry. May each of them experience God's grace anew in their lives so that they will courageously proclaim the Gospel in word and deed, and go out to serve the people of God in their various dioceses and religious congregations with care and compassion."